Certina DS
The Success Story
In the middle of the fifties, a team under the guidance of engenieer Philipp Kurth wanted to design a wristwatch as rugged as possible. Through countless experiments they finally developed the construction principle of the DS models. DS stands for "Double Safety". This was achieved by a floated mounting of the entire movement with an elastic shock absorber ring in addition to the conventional shock absorber (Incabloc). Aside from that, there was an air gap between the dial and case. So the movement could move in all directions. Other features were additional sealings, an extra thick and sheathed Plexiglass, combined with the enhanced caseback.

Despite the classical styling with the Bombay band lugs, the watch was very robust. She held out bumps up to 6 meters and was water resistant up to 200 meters. The first watches, which came on market in 1958, had a flat caseback whitout the turtle logo. As movement, the 25-45 was used. Very early specimens still had a evidence to the patent application instead of the patent number engraved on the inseide of the caseback. This patent (346825) was related to the shock mount of the movement and was registered on 8. Mai 1958 by case manufacturer Huguenin Fréres (see patent drawing on the right).
From the end of 1960, the new calibre 25-65 respectively 25-651 was used and from then on the famous turtle was engraved in the caseback. The manual wind version had a flat, and the automatic version a waved caseback.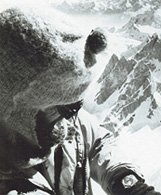 Here you can find a small gallery with which you can track the evolution of the DS caseback.
In 1960, the Certina DS was able to prove their robustness on the Himalaya. On 13 May 1960 a Swiss team succeeded to reach the summit of the Dhaulagiri (8167m). Both teams of this expedition were equipped by Certina with DS watches. More promotionally effective endurance tests demonstrated the resilience of the DS concept. Thus, the Certina DS became the epitome of a particularly robust wristwatch.
Besides the models which are listed below, even some Dive watches were available in the DS line. You can find these in this rubric.
As in 1968, finally the successor of the DS, the DS-2 came on market, more than 300'000 pieces of the DS had been sold worldwide.
Overview
Model
Reference no.
Calibre
Dimensions mm
Comments
DS
5101 013
Certina 25-36
36 x 45.5 x 11.5
No Date
Various dial versions
From 1958 to 1960
DS
5101 013?
Certina 25-66
36 x 45.5 x 11.5
No Date
Various dial versions
From 1960 to 1968
DS
5301 013
Certina 25-661
36 x 45.5 x 11.5
Datum, keine Datumsschnellschaltung
Diverse Zifferblatt-Varianten
1960 bis 1968
Model
Reference no.
Calibre
Dimensions mm
Comments
DS Automatic
5601 012
Certina 25-45
36 x 45.5 x 11.5
No Date
Various dial versions
From 1958 to 1960
DS Automatik
5601 003
Certina 25-451
36 x 45.5 x 11.5
Date without quickset
Various dial versions
From 1958 to 1960
DS Automatic
5601 112
Certina 25-65
36 x 45.5 x 11.5
No Date
Black dial. Mit Leuchtfarbe ausgelegte
Indexe
From about 1960
DS Automatic
5601 112
Certina 25-65
36 x 45.5 x 11.5
No Date
Various dial versions
From about 1960
DS Automatik
5801 112
Certina 25-651
36 x 45.5 x 11.5
Date without quickset
Various dial versions
From 1960 to 1968
DS Automatic
5806 012
Certina 25-651
36 x 45.5 x 11.5
Date without quickset
Case in 20 micron goldplaque
From 1960 to 1968
DS Automatic
5880 112
Certina 25-651
36 x 45.5 x 11.5
Date without quickset
Bracelet, case and dial in 18 carat yellow gold
From 1960 to 1968
Update: 01.06.2014